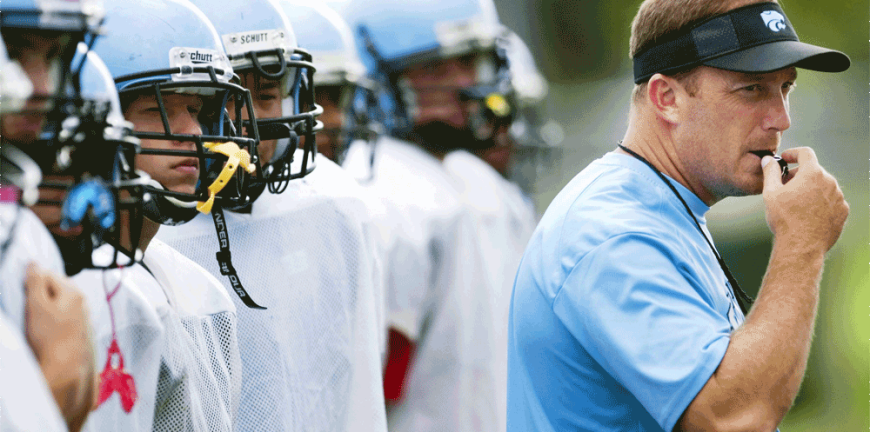 By

Ourvision Staff

Cause in
Our Vision Sports Education Foundation hosts the "1st Annual Central Georgia High School Semi-Contact Football Camp", powered by Chick-fil-A.
Our  Vision  Sports Education  Foundation  hosts  the "1st  Annual Central Georgia High School Semi-Contact Football Camp", powered by Chick-fil-A.
ATLANTA,  GA  (July 8,  2016)  –  Our  Vision Sports  Education Foundation and Chick-fil-A  proudly presents  the  1st Annual  "Central  Georgia  High School Semi-Contact  Football  Camp"  on  July  20-21,  2016  for more  than  500 student-athletes  from  local  high  school football  communities.  The two-day camp  will provide  GHSA studentathletes an opportunity to  learn additional team-building  techniques,  improve  their  character  development, and enhance  their  football  and  leadership  skills  on the beautiful campus  of  The  Georgia  Military  College,  in Milledgeville, GA.  OVSEF  President,  Andre  Wise,  expressed  the importance  of  providing  this  opportunity for  the  teams  involved. "This  is  an opportunity for  teams  that  have  never  attended an  away training  camp to  bond  and  build the chemistry and  camaraderie  needed  to  compete  at  a  high level during  the  season," said OVSEF  President Andre  Wise. "Donations  received  for  this  event  will help  support  OVSEF's  overall mission to  continue our work  in  the  community,  exposing  student-athletes to  experiences that  will help  them  further  reach  their academic and athletic potential."  Coach  Dexter  Copeland  shared his  thoughts  on  the  event.  "Great  way  to  bring  my  team  together and compete  against  other  schools,  as  well  teach  my  student-athletes life skills needed  outside  of  football."   Coach Dexter Copeland is the head coach of the Macon County football team in Montezuma, GA. In  addition to  football,  the teams  and  coaches  will also  receive  intangible nuggets  of  information such as Financial  Literacy,  NCAA  Eligibility &  SAT  Preparation tools, and  Concussion Awareness  and  Treatment, from some  of  today's  top field  experts  and  leading  facilitators.  NCAA certified college  coaches  will  also  be in attendance  to  evaluate  and  educate  campers.  "With the  support  of the community  we  hope to  build a long lasting  relationships  with our community leaders,  said Wise."  Local  community  and  national partners  for  the inaugural  event  include:  Georgia  Military  College,  Chick-fil-A, The  Coca-Cola  Company,  Middle  Georgia Orthopaedics,  I  Youth  Football,  103.7  Radio,  Power  Ice,  Dri-Towel,  Muscle  Performance  Science  (MPS), Morgan Stanley and Glory Sports Consultants. "We  appreciate  the support  of Georgia  Military College  and look forward to  hosting  our  event  here  on  an annual  basis."(-OVSEF  President, Andre  Wise.)  GMC  boasts  a  Notable  NFL  and  Collegiate  Alumni  roster including  the  talents  of,  Lorenzo  Bromell  (New York  Giants),  current  GMC  defensive  line coach  and  Super Bowl  Champion,  Jermaine Smith  (Green Bay),  current  GMC defensive  line coach  and  Super  Bowl  Champion, Daniel Wilcox  (Tampa  Bay  Buccaneers), Peppi  Zellner  (Arizona  Cardinals),  and current  Cincinnati Bengals Wide receiver, Mario Alford and more.
ABOUT OVSEF   http://www.ourvisionfoundation.com   Our  Vision Sports  Education  Foundation Inc. is  a  501c3  nonprofit  organization that  serves  the  youth through sports  and  educational development. The organization's  purpose  is  to  help  enrich the  lives  of  young  people through life building  activities  and  instruction in the areas  of sports, education, character  building, leadership development, mentoring, and community service.
ABOUT GMC http://www.gmc.edu/    The mission of  Georgia  Military  College  (GMC)  is  to  produce  educated  citizens  and  contributing  members  of society in an  environment  conducive  to  the development  of the intellect  and  character  of  its  students, regardless  of location or  method of  delivery.  College  students  are  offered  a liberal  arts-based, two-year undergraduate  curriculum  designed to  support  student  attainment  of an  associate  degree  and prepare students  for  transfer  to  four-year  colleges and  universities. Students  with an  associate  of  applied  science degree  are  offered a  curriculum  designed to  support  student  attainment  of a Bachelor  of Applied Science degree. For  selected college  students  who  enroll  in  the  Reserve  Officer  Training  Corps  (ROTC),  and preparatory school students  in  the Junior  ROTC  program,  GMC  includes a  military training  and  education component.
***Working  media  are  invited to  attend  as  press for  the  event  and  is requested  to  RSVP  by  2:00  pm  on Monday, July 18, 2016.
For a  complete  team  and  roster list,  please  contact: Andre  Wise President/Our  Vision Sports  Education Foundation, Inc. 478  456  6044 awise@ourvisionfoundation.com
To  make donations  or  for press  inquiries on  this event,  please  contact: Alisha  Alford 404-399-9828 aalford@ourvisionfoundation.com