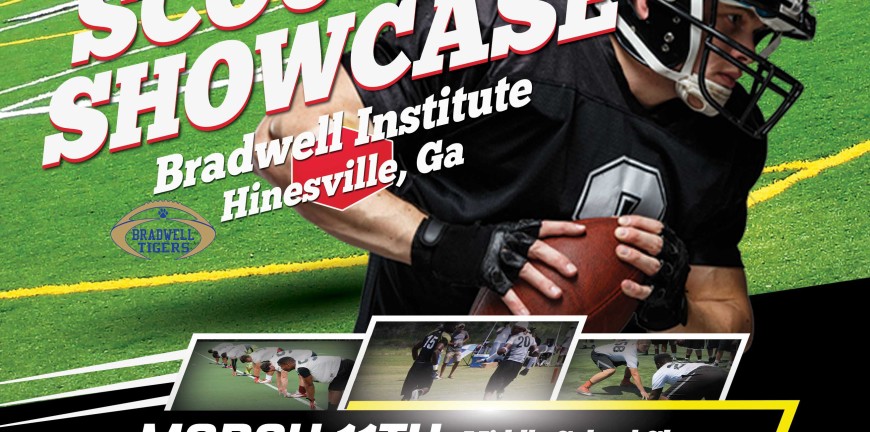 Sticky
By

Ourvision Staff

Cause in
TYGTAL Exposure: College I.D. Scouting Showcase – March 11th – Powered By: OurVision Sports Education Foundation
FOR IMMEDIATE RELEASE:
TYGTAL Exposure & Sports Consulting hosts the "College I.D. Scouting Showcase", powered by OurVision Sports Education Foundation
ATLANTA, GA (February 21st, 2017) – Tygtal Exposure & Sports Consulting and OurVision Sports Education Foundation proudly presents the "College I.D. Scouting Showcase" on March 11st, 2017 for more than 200 student-athletes from local high school football communities. The one-day showcase will provide GHSA student- athletes an opportunity to showcase their talents in front of College Coaches, NCAA Compliant Scouts, and Sports media outlets on the beautiful campus of Bradwell Institute, in Hinesville, GA.
TYGTAL President, Andre Wise, expressed the importance of providing this opportunity for the student-athletes involved. "This is an opportunity for student-athletes outside of Metro Atlanta, that have never attended a Scouting Showcase to learn what it's like to be apart of a NCAA Compliant Showcase". Each participant will have the ability to display their talents, by performing position specific drills that College Coaches and NCAA Scouts want to see. Once the drill portion is completed each participant will compete in 1on1's in front of College Coaches. This gives every athlete involved the opportunity to be evaluated and recruited.
Every High School age athlete will be filmed performing every drill on the field and will have the option to purchase a Highlight video at the conclusion of the event.
Andre Wise. "Donations received for this event will help support OVSEF's overall mission to continue our work in the community, exposing student-athletes to experiences that will help them further reach their academic and athletic potential."
"We appreciate the support of Bradwell Institute and look forward to hosting our event here on an annual basis."(-TYGTAL President, Andre Wise)
ABOUT TYGTAL EXPOSURE http://www.tygtalconsulting.com
TYGTAL Exposure & Sports Consulting is a nonprofit organization that serves the youth through sports and educational development. The organization's purpose is to help enrich the lives of young people through life building activities and instruction in the areas of sports, education, character building, leadership development, mentoring, and community service.
ABOUT BRADWELL INSTITUE http://bradwellinstitute.org/
Bradwell Institute was founded in 1871 by Captain Samuel Dowse Bradwell, C.S.A, and others, succeeding the Hinesville Institute, which had closed during the American Civil War. The school was named for Colonel James Sharpe Bradwell, father of Captain Bradwell. For many years, Bradwell Institute was a private school where students paid tuition and boarded in private homes. Today, Bradwell Institute is a public comprehensive high school with a curriculum that is geared to the interests and needs of students of different ability levels and educational backgrounds. Bradwell also offers a variety of student activities to match the varied interests of the student body. The school is continually upgrading facilities and equipment in order to keep up with the changes occurring in education and business today.
***Working media are invited to attend as press for the event and is requested to RSVP by 5:00 pm on
Tuesday, March 7th, 2017.
For a complete team and roster list, please contact:
Andre Wise
President/TYGTAL Exposure Sports Consulting
478-456-6044
coachwise@tygtalconsulting.com
To make donations or for press inquiries on this event, please contact:
Andre Wise
478-456-6044